Uphill
Confortable assist torque
Assist torque is controlled automatically when you walk on uphill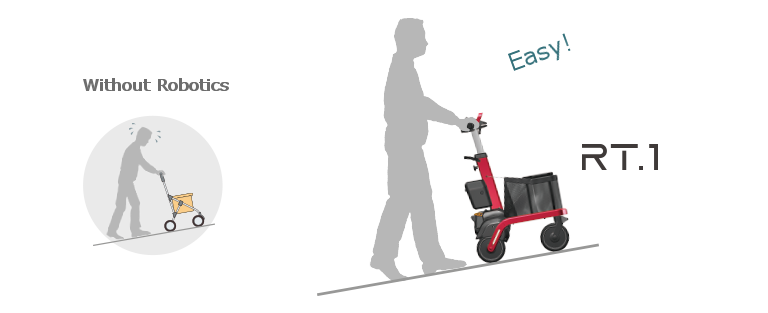 Downhill
Brake toruqe for Safety
Brake torque is controlled automatically when you walk on downhill
Lateral inclination
Handling assist
You can walk straight in spite of gravity.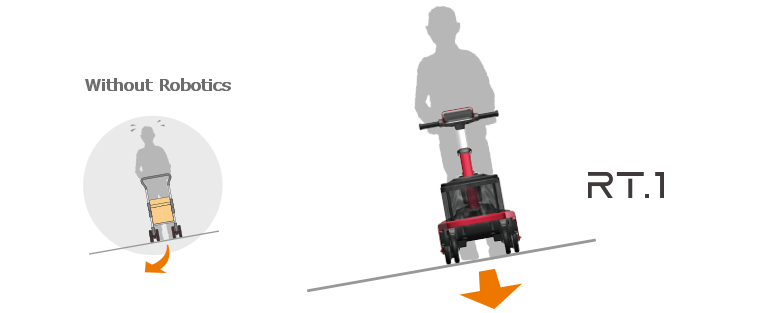 Accidentaly releasing on the slope
Stops automatically
Sensor in the grip handle detects a hand leaves from the grip.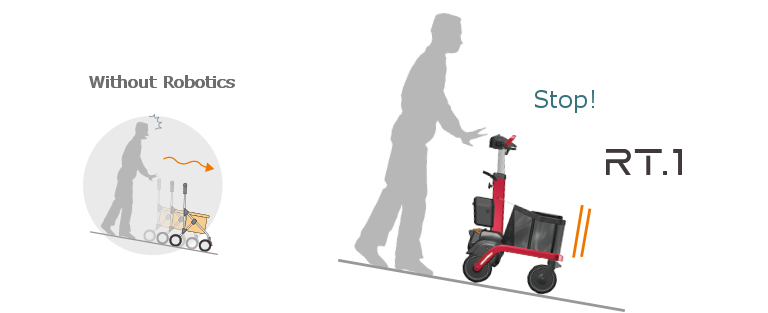 Automatic brake when detects overspeed
Avoid to fall down
Automatic brake to decrease speed and avoid falling down. Its threshold speed is configurable.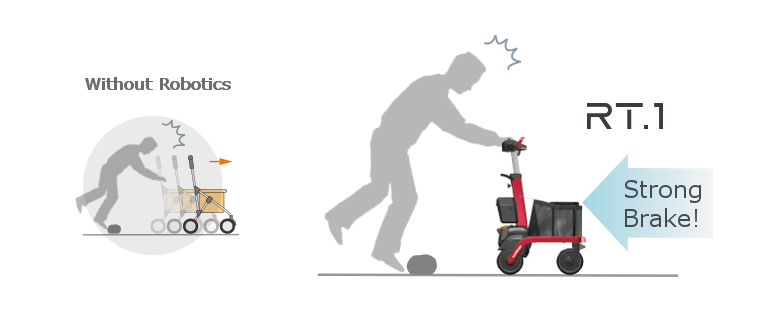 RT.1 connects you to your family with communication function(OsanpoCare Service)
It provides various services using GPS system and internet technologies.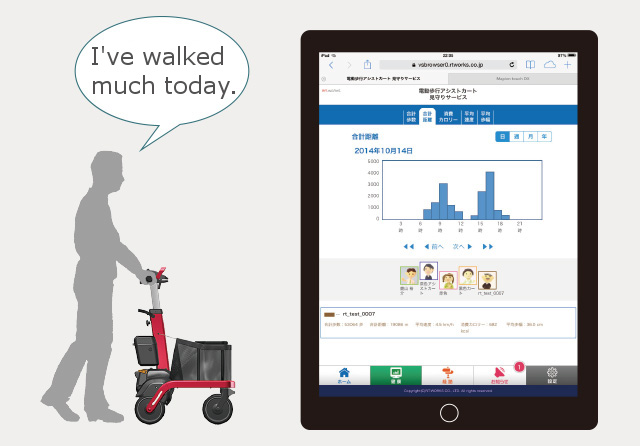 Checking activities
(Health Care Function)
Recording walking distance, time and calorie consumption. It can be seen with Smartphone and tablet for health management.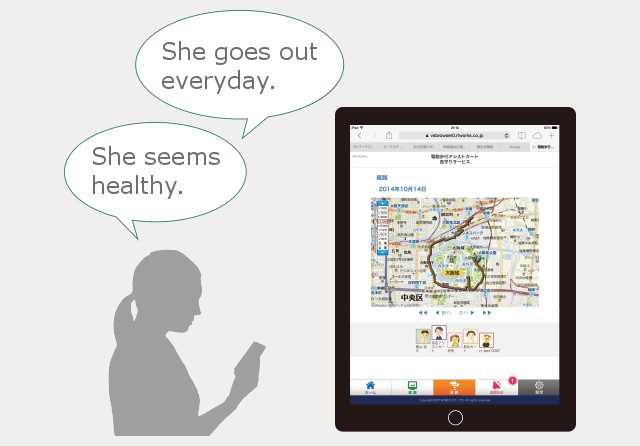 Checking location by GPS system
(Remote Watching Function)
Checking walking path by not only user but also his/her relations living in a far places.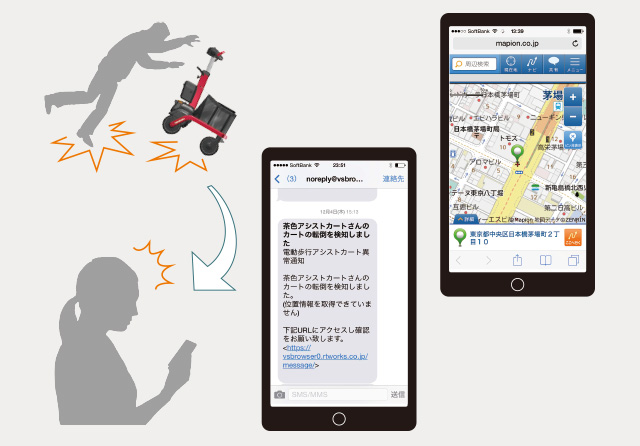 Relief in case of Emergency
(Emergency Notification Function)
When RT.1 detects irregular state, emergency notification is automatically sent to registered relations.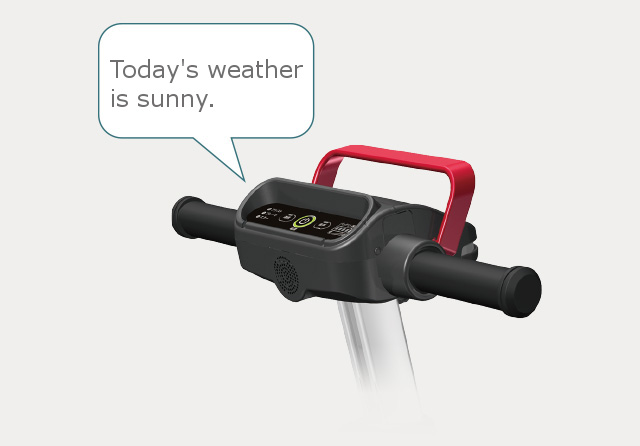 Various CLOUD services
-Advices based on walking statistics
-Providing local informations aroud the position
-Notifications of Broken alert, Maintenance term, etc.
*To use OsanpoCare Service, separate service contract is needed.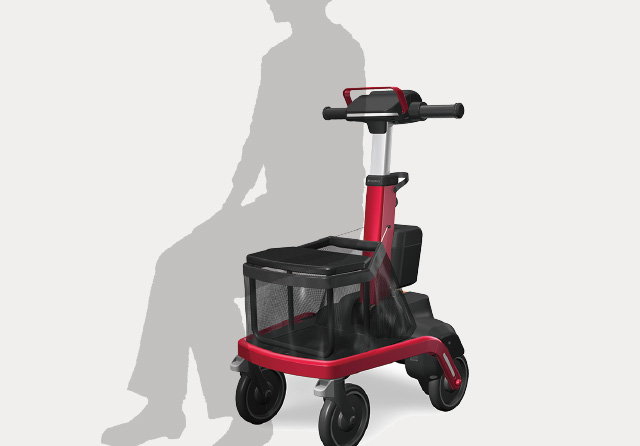 You can sit on the seat when you are tired.
Wide seat for relaxing
(Weight limit is 100KG)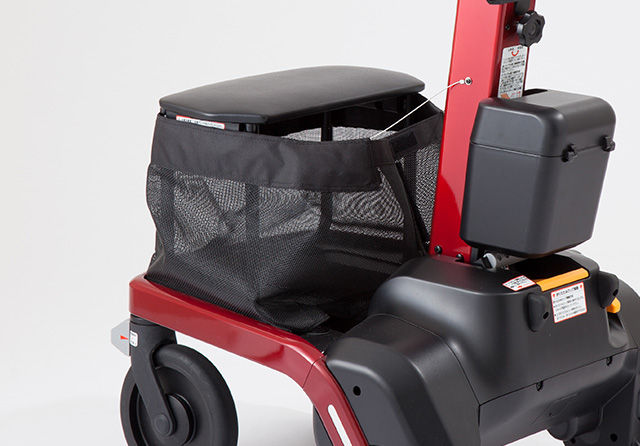 Useful big storage
Load weight limit is 10KG.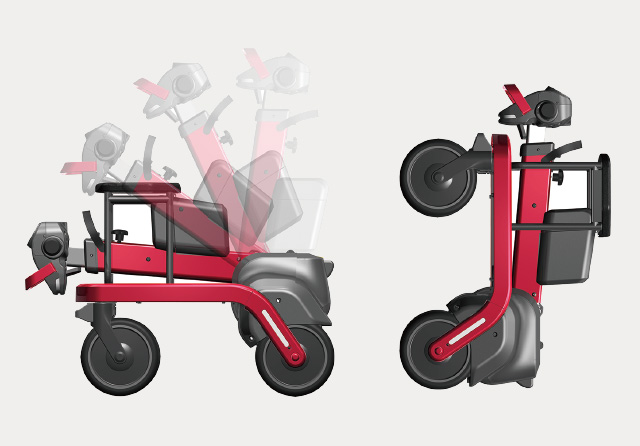 Folding with one action.
It can be stored in the trunc room of car.
Handle grip height can be chosen from 5 positions
Configurable between 75 - 95cm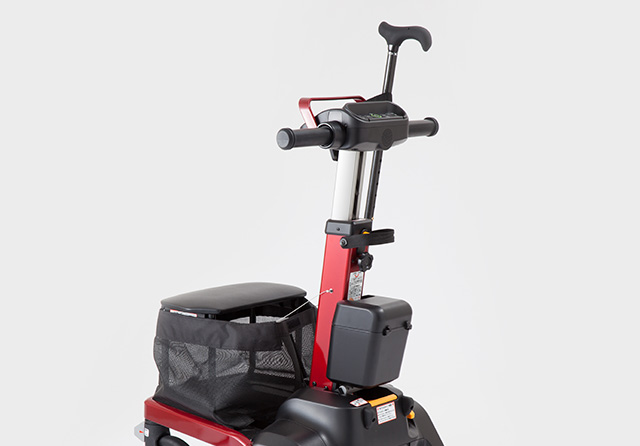 Cane holder
It can hold cane or umbrella
Configurable to fit your physical condition and environment.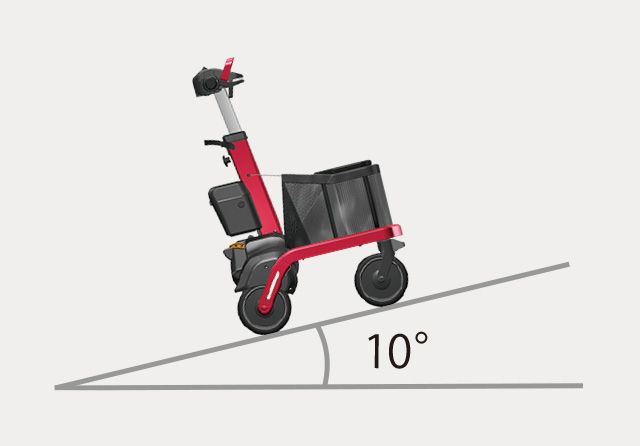 Assist torque works on inclination of max 10 degree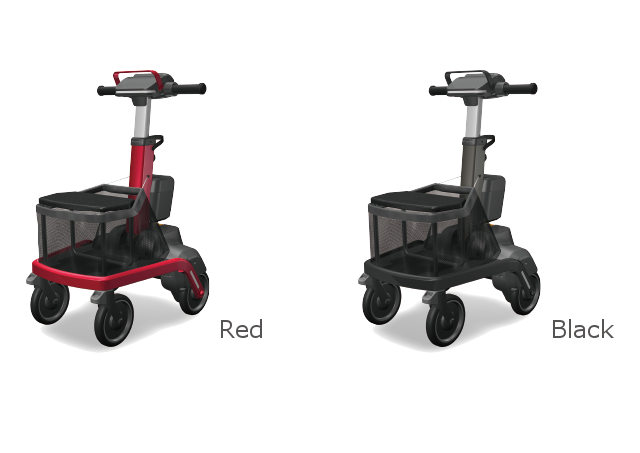 Name
RT.1
Model number
RT1-01RDN (red) / RT1-01BKN (black)
Size
W510 X L601 X H819〜1019mm (Walking form)
Handle grip height is configurable between H750〜950mm
W510 X L487 X H714mm (Folded form)
Weight
Aprox. 15kg
Power supply
Litium-ion battery (with dedicated charger)
Charging time
2 hours
Communication function
3G(W-CDMA 800MHz and 2.1GHz), GPS
Load's weight limit
10Kg
Weight limit to seat
100Kg
Waterproof level
Rainproof (IPX3 equivalent)
Price
Open price
*The specification may be changed without notification.
Calalogues, references(All Japanese) Optional services(All Japanese)
Price(Open price *It varies depending on each supplier)
RT.1
Open price
(Direct sale price ¥228,000[without tax])
RT.1 + OsanpoCare Standard pack for 3 years
Open price
(Direct sale price ¥248,000[without tax])
RT.1 + OsanpoCare Extreme pack for 3 years
Open price
(Direct sale price ¥267,000[without tax])
Price will vary depending on the supplier.
Please contact RT.WORKS(TEL : +81-6-6975-6650) about information of supplier.

Contact TEL : +81-6-6975-6650
e-mail : contact@rtworks.co.jp